A Taste of the 2023 EPCOT International Food & Wine Festival
If you're headed to Walt Disney World this summer or fall, bring your appetite. From July 27 to November 18, 2023, the International Food & Wine Festival will bring worldly cuisine, live music, and family-friendly activities to EPCOT.
So that you can savor every bite and beat, it's a good idea to plan ahead. Here's a sneak peek at the 2023 EPCOT International Food & Wine Festival, and our tips for making the most of it.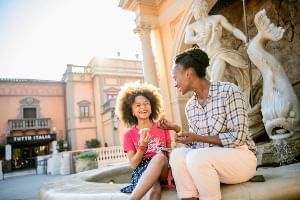 Global Gourmet for Days
With pavilions celebrating 11 countries, the diverse food options at EPCOT's World Showcase never disappoint.
But the cuisine at the International Food & Wine Festival is in a league of its own.
During the event, EPCOT's 11 pavilions sell exclusive food and drink items alongside their year-round offerings. The theme park also sets up booths selling dishes from countries and regions that aren't usually represented, such as Australia, Ireland, Kenya, and Brazil.
The World Celebration, World Discovery, and World Nature sections of EPCOT also join in on the fun. Last year, booths in these areas served unique takes on American favorites.
And don't let the festival's name fool you — it's just as easy to find beer, cocktails, and soft drinks as it is to find wine.
During past festivals, food options included:
Grilled shrimp with pineapple (Australia)

Waffles with chocolate or berries (Belgium)

Wings tossed in a peanut butter and jelly sauce (Brew-Wing)

Filet mignon with wild mushrooms (Canada)

Oysters Rockefeller (Coastal Eats)

Spanakopita (Greece)

Spam musubi (Hawaii)

Falafel with tahini sauce (Morocco)

Shrimp and chorizo paella (Spain)

Mongolian beef bao buns (China)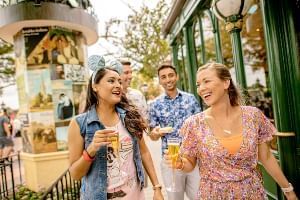 In years past, EPCOT has served the following alcoholic and nonalcoholic (NA) drinks:
Hard cider flights (Appleseed Orchard)

Cold brew with Irish cream syrup (NA) (Joffrey's Coffee and Tea)

Frozen caipirinhas (Brazil)

Frozen passion fruit martinis (France)

Reisling wine (Germany)

Mango lassi (NA) (India)

Guinness and Baileys milkshakes (Ireland)

Twinings tea slushies (NA) (Earth Eats)
How to Eat Around the World Like a Pro
The dishes above are just a sampling of what EPCOT served at past festivals.
In 2022, guests had their choice of about 200 food and drink options. Unless you have a bottomless stomach and wallet, it's just not possible to try it all in a day. You don't want to miss out on your favorite food because you're too full.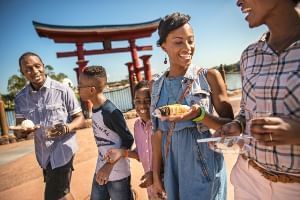 Every item at the International Food & Wine Festival is listed in an official festival passport.
Pick up a free passport and park map at the EPCOT entrance. Choose your must-try dishes and drinks, figure out where they are in the park, and plot out a course. The passport also designates vegan and gluten-free menu items, making it easy for guests with dietary restrictions to make a game plan.
Join Emile's Fromage Montage
Contrary to popular belief, the jokes they tell on Jungle Cruise aren't the cheesiest thing at Walt Disney World. For proof, just flip to the back of your festival passport. Emile's Fromage Montage entails ordering cheese-based dishes around the park, like Canadian cheddar soup and Brazilian pão de queijo.
Each time you try a new dish, you'll add a sticker to your passport. Once you've collected five stickers, head to the Shimmering Sips stand for a prize.
Eat to the Beat: A Star-Studded Concert Series
After you've tried some harmonious food and drink pairings, head to the American Adventure pavilion for harmonies of a different kind.
The EPCOT International Food & Wine Festival has its own concert series, called Eat to the Beat. And each year, it brings in big-time performers. During their time at EPCOT, artists typically play three half-hour shows a day, at 5:30 p.m., 6:45 p.m., and 8 p.m.
This year's acts include:
Soft rock pros Air Supply

American Idol winners Ruben Studdard and Phillip Phillips

The Bacon Brothers, a folk-rock act consisting of Kevin Bacon and his brother, Michael

R&B legends Boyz II Men

Latin funk band Los Amigos Invisibles

Rising CCM stars for KING & COUNTRY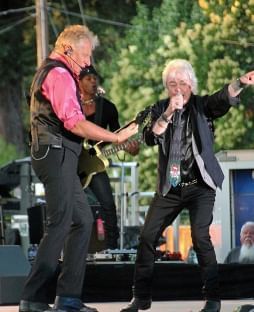 General admission to the Eat to the Beat Concert Series is included with park admission.
Get Ready to Rock
Before going to EPCOT, have a look at the artists playing during your Orlando vacation so you can plan your schedule around your favorites. General seating is first-come, first-served. It's a good idea to arrive at the America Gardens Theatre 15-30 minutes early.
Don't want to wait in line? There's another way to get a prime seat at an Eat to the Beat show.
Each year, select EPCOT restaurants offer dining packages that come with guaranteed seating to one of the day's concerts. Last year, guests could make reservations for three full-service restaurants. They could pick a soft drink, appetizer, entrée, and dessert from a prix fixe menu. The Germany pavilion's Biergarten offered an all-you-can eat buffet.
A limited number of dining packages are available for these restaurants, so save your spot early.
But if you don't make a reservation in time, all is not lost. In previous years, Regal Eagle Smokehouse and Spice Road Table offered same-day dining packages with the same concert perks.
In 2022, dining packages started at $34.99 for adults and $16 for kids.
Shop, Eat, Repeat
The EPCOT International Food & Wine Festival features exclusive merchandise. Figment the dragon, who has become an unofficial festival mascot, appears on souvenirs like T-shirts and MagicBands. Guests can also splurge on a festival-themed Pandora charm or Dooney & Bourke bag.
However, the Food & Wine Festival isn't the only party going on at Disney in 2023.
The Walt Disney Company is turning 100 in October 2023. To mark the occasion, the parks will carry merchandise featuring Disney characters through the years. Go old school with an Oswald the Lucky Rabbit plushie. Or celebrate the company's 21st-century accomplishments with Toy Story 4 or Princess and the Frog apparel.
Disney will release new anniversary items throughout the year.
Your Home Base for the Food & Wine Festival
At the end of a successful day at the EPCOT International Food & Wine Festival, unwind in your cozy guestroom at Rosen Inn.
Our hotel is on Orlando's famed International Drive, making it easy to visit top attractions like Walt Disney World. In your downtime, lounge by our on-site pool or get your game on at the arcade. For more global cuisine, make a reservation at Shogun Japanese Steakhouse, our award-winning teppanyaki restaurant.