Pet Friendly Hotel in Orlando
Posted On: April 22, 2022
They're family. Sometimes you get along with them better than your blood relatives and other human beings. They get you and they complete you. I'm talking about our beloved pets.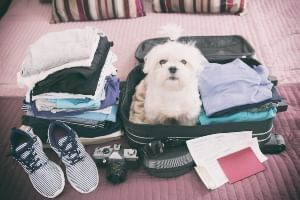 Let's be honest, if you're reading this blog, you know that travel is best enjoyed with the whole pack. We couldn't agree more. That's why every Rosen property is a pet friendly hotel. We don't discriminate by breed. All we ask is that your pets are current on vaccinations.
And there's something else you should know. In addition to pet friendly hotel options, Orlando has plenty of spots that you and your best friend will both love. Let's look at some of the fun things you and your furry friends can enjoy together while on vacation.
Play Time!
Dr. P. Phillips Community Park features two dog runs, one of which is intended for small breeds, but also open to older dogs and shy ones. Your dog isn't the only one who will delight at this massive park. It also has multiple playgrounds and a splash park that kids will love. Looking for something the whole family can enjoy? Check out the trails, volleyball nets, and basketball courts.
Barber Dog Park boasts a big, fenced-in field great for getting the zoomies out. This off-leash dog park has obstacles to challenge your canine's mind and agility. It also has separate small dog and large dog areas, so everyone can play comfortably.
Lake Baldwin Park is a little further from International Drive, but it's an incredible gem and accessible by Orlando's major highways. Dogs truly have the run of the land here in this 23-acre, off-leash dog park. There's a lake, great hiking trails, picnic tables, and wash stations.
While many Orlando theme parks are only open to service animals, Fun Spot America's two Central Florida locations (one on International Drive, the other in Kissimmee) welcome all well-behaved dogs. Be sure to bring your own doggy bags and decide who will stay with your furry friend as the rest of your group hops on rides.
Want to take your water-loving dog on a paddleboard adventure? Buena Vista Watersports welcomes dogs and their owners.
Or perhaps your dog's more into the ocean. Canova Beach Park, located south of Cocoa, is one of two dog-friendly beaches we suggest visiting. The other is Smyrna Dunes Park. Your pet will love the chance to frolic in the surf.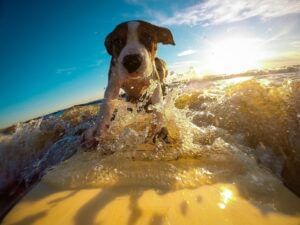 Cultured dogs will love the Mennello Museum of American Art, whose outdoor sculpture garden is free, open to the public, and best of all, pet friendly. You can even purchase a pet membership for your furry friend, which grants them their own membership ID and a spot on the museum website.
Pampering Our Pets
Head over to Runway Pet Grooming & Store for top-notch pet grooming services.
Dog spa services include what you expect to find: bathing, blow dry, detangling, and nail grinding or clipping, but also some fun options such as blueberry facials and pawdicures.
Woof Gang Bakery is another fun store to visit with our dogs. This franchise offers our four-legged friends a boutique shopping experience. It also features in-store grooming services.
If by chance you're looking for an economical and quick place to wash your dog but have no shampoo or towels, stop by Pet Supermarket. At many of the chain's locations, $10 gets you access to a self-service dog washing station. It's stocked with all the supplies you'll need to bathe and dry your pup while keeping you dry.
After exploring Orlando and before heading back to your pet friendly hotel, you and your dog can both unwind with a beer at Roque Pub on Curry Ford Road. Yes, you read that right.
In addition to a wide selection of craft brews and pub food for you, this dog friendly Orlando restaurant will also pour your pet a non-alcoholic beer made just for them.
Giving Back to the Less Fortunate Animals
While we love to spoil our own pets, it's also important to look out for all the animals in shelters, in foster care, and on the streets waiting for a place to call home.
As a pet friendly hotel chain, Rosen Hotels & Resorts works with and knows a lot of great organizations that would love a little extra support. If it's in your budget and heart, consider looking into any of these or other fine animal rescue missions.
LoveyLoaves Special Needs Rescue & Sanctuary, a 501(c)3 dog rescue, focuses their love and attention on dogs with special medical needs and those that have suffered injury, disease, and amputation.
The Pixel Fund is an animal rescue organization headquartered in Maine with satellite locations in Georgia and Florida. Everyone at Pixel, including the board members, are volunteers. This organization depends heavily on volunteerism and community support to pull animals out of high-kill shelters and into foster or forever homes.
Pet Alliance of Greater Orlando and Rosen Hotels & Resorts go back some years but not as far back as this organization, which started in 1937. Pet Alliance staff and vets focus on rehabilitating and rehoming homeless and surrendered pets.
Pet Friendly Hotel in Orlando
If you're looking for a pet friendly hotel in Orlando, Rosen Inn is ready to check you in along with your pet.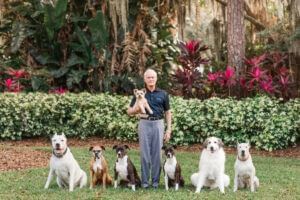 Our spacious accommodations allow room for humans and dogs to move comfortably in the safety of your guestroom. This pet friendly hotel also has ample room outdoors to take care of business. With all that Rosen Inn and Central Florida have to offer your pet, why not bring your best friend along on your next Orlando vacation?