Everything We Know About Universal's Epic Universe
Imagine the year is 1990. Universal Orlando Resort just opened its first park to the public. The bare-bones amusement park of yesteryear would be almost unrecognizable in comparison to today's premier tourist destination.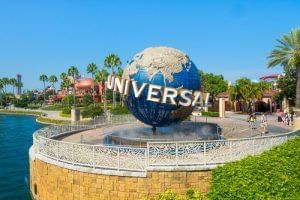 With the opening of countless resorts, a sophomore theme park in 1999, and even the addition of a water park in 2017, it would be an understatement to say Universal Destinations & Experiences has come a long way since its conception. 
Though the history of Universal Orlando is intriguing enough, the future of the brand is looking even more Epic.
Universal Orlando's fourth project Universal Epic Universe is underway and theme park enthusiasts are starting to get excited.
With so much speculation running the rumor mill, we've compiled a list of everything that is 100% confirmed fact about Epic Universe.
Concept Art and Building Plans
In August of 2019, Universal Orlando's parent company, Comcast, announced a fourth park installment for the renowned resort. Set to open in 2025, Epic Universe has piqued the interest of many around the world, those of whom are excited to see Universal's latest project come to life.
Theme park enthusiasts have been waiting patiently for any kind of news or indication of what the park will entail, which had initially been kept minimal due to the competitive nature of the theme park business. But we were able to get our hands on the building plans and concept art for the park.
The first look into Epic Universe was an art rendering of the park's map, released during the first announcement.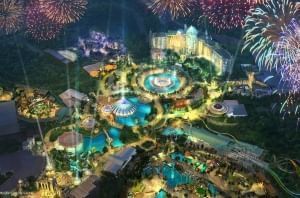 In the graphic, you can clearly see that they are following the usual Universal formula. There is an iconic entrance, a central hub, and a park broken into different lands with different themes – a layout design cohesive throughout all their parks.
What's most eye-catching about the graphic is the grandiose hotel that sits right at the back of the park, whose construction is already visible from certain roads.
The sheer size of the park is one of the many things that earn the park's name. According to building plans, it's understood that the park is going to be 750-acres large, which is almost the size of all three current parks combined.
The unconventionality doesn't stop there, though. The park will be completely detached from the current property, with the campus located a few miles southeast from the existing Universal Orlando Resort. We can't wait to see what they do with all of that space!
Super Nintendo World
Hold on tight to your bananas and blue shells – Universal Orlando Resort is finally getting a Super Nintendo World!
Universal Parks and Nintendo go way back, with their partnership starting in 2015. Since then, Universal Studios Japan, Universal Singapore, and Universal Hollywood have all unveiled their own versions of Super Nintendo World, with Epic Universe following suit.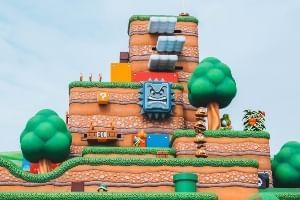 During the Hollywood opening of the land in February of 2023, Universal CEO Mark Woodbury revealed that the east coast would also be getting a Nintendo addition at Epic.
Woodbury accurately described this announcement as the "worst kept secret in history," due to the heavy speculation of the matter in the months leading up to the reveal.
The only thing confirmed by Universal as of right now is the mere existence of the land. However, if it's anything like Hollywood's Super Nintendo World, we know it's going to bring Epic to a whole new level.
Stick With Rosen Inn
As of right now, there are three existing Universal Orlando parks to visit – Universal Studios Florida, Islands of Adventure, and Volcano Bay.
All three of these parks offer thrilling experiences, immersive storytelling, delicious dining, and unforgettable memories.
While 2025 seems far away now, it will be here before we know it. If you're going to begin your vacation planning now, keep Rosen Inn in mind when choosing your temporary Orlando home.
Rosen Inn closest to Universal, a Universal Partner Hotel, offers not only affordability, but comfort and convenience, as well. With free shuttles to and from the parks, this hotel is the perfect option for Universal enthusiasts coming in from out of town.