Seaworld's Seven Seas Food Festival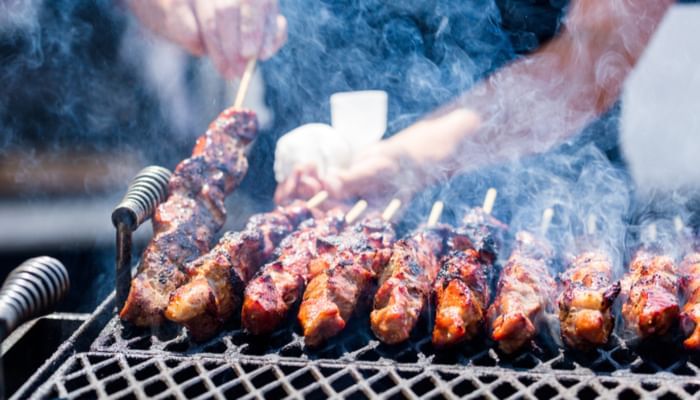 Sail through stations representing cuisine and a taste of culture from areas around the seven seas. SeaWorld's Chef Héctor Colón and his team prepare exotic dishes from Asia, Latin America, the Polynesian Islands, North Atlantic, and Europe during one of the best outdoor festivals Orlando has to offer this spring. The annual Seven Seas Food Festival takes place every weekend from February 3 through May 7, 2023. The event promises guests hours of fun in the sun while sipping drinks, sampling eats, and enjoying live performances from some of the biggest names in music.
International Cuisine
Located at kiosks throughout the park, guests can sample appetizing small plates and flavorful menu items from around the globe. Prepared by culinary artist Chef Héctor Colón, unique, mouth-watering dishes from such exotic locales as Asia, Brazil, German, Polynesia, Gulf Coast (U.S.), the Mediterranean, and the Caribbean are available for purchase.
Specialty Drinks
For visitors looking to toast the day away, a wide variety of cocktails, wine, and international and local craft beers await. To get the best value, guests can purchase a tasting lanyard in advance of the event that is good towards drink and eat samples at kiosks throughout the festival.
Electrifying Concerts
Included with regular park admission, Bayside Stadium hosts free concerts from top rock, country, and Latin music artists each day of the festival. Previous year's performers have included:
Maddie & Tae
Trace Adkins
Night Ranger
Walk Off the Earth
Dennis DeYoung: the Music of Styx
Grupo Mania
Boyz II Men
More performers will continue to be announced ahead of each week's performance. Seating at Bayside Stadium is first come, yet guest can purchase reserved floor seating for select performances ahead of the event. All concerts start at 6 p.m.
Festive Family Fun
The Seven Seas Food Festival is truly a family affair. Children of all ages will have a blast at the festival's interactive game and coloring stations, during the electric dance parties with costumed characters, and on the permanent rides and attractions throughout the park.
Convenient Accommodations
Choose to stay close to the festivities by booking your room at the Rosen Inn. Located on International Drive, the Rosen Hotel & Resort offers affordable luxury, amenities, and convenient access to SeaWorld. Enjoy a relaxing Orlando vacation with all the comforts of home by calling the Rosen Inn today at 407-996-4444.