The Orlando Watersports Complex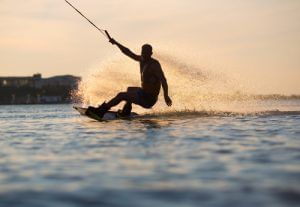 A Central Florida favorite since the early 2000s, The Orlando Watersports Complex (OWC) is a watersports park designed for wakeboarding, wake skating, knee boarding, and waterskiing – with a twist. Guests can be towed by suspended cables or by top-of-the-line Correct Craft boats. Now nearly 20 years old, OWC is well-established as a venue for riders of all levels. Whether you're wanting to try watersports for the first time or you're a seasoned professional, OWC has you covered.
A huge benefit to OWC's layout is how long it allows you to spend on the water. They are one of the only facilities in the United States that has two cableways – one for beginner/intermediate use, and one for their "slider" park. This allows for unlimited riding time to improve fundamental skills and build confidence. The sliders are always changing and improving, meaning that no two visits to OWC are the same.
In addition to the cableways, you have the option to train behind Correct Craft watersports boats with a certified professional staff. Riders of all skill levels are welcome.
The slider park is purpose built for wakeboarders and wake skaters. It runs at 20 mph and is full of obstacles like launch ramps, a kicker, flat bar, table-top, and a funbox.
As if that wasn't enough, OWC opened up Central Florida's first ever inflatable water park earlier this year. Inspired by LEGO blocks, there are three play options available ranging from 50-minutes to an all-day pass. Prices start at $20 and go up to $40 for all-day fun. Here you'll find areas to climb, slide, and splash around, and it's directly adjacent to the wakeboarding cables so you can do both!
When planning your Orlando getaway, remember that the Rosen Inn is your perfect solution for affordable luxury right in the heart of Orlando. Rooms are filling up fast, so call us today at (407) 996-6327 to book your stay.