Magical Dining - Shogun Japanese Steakhouse
Magical Dining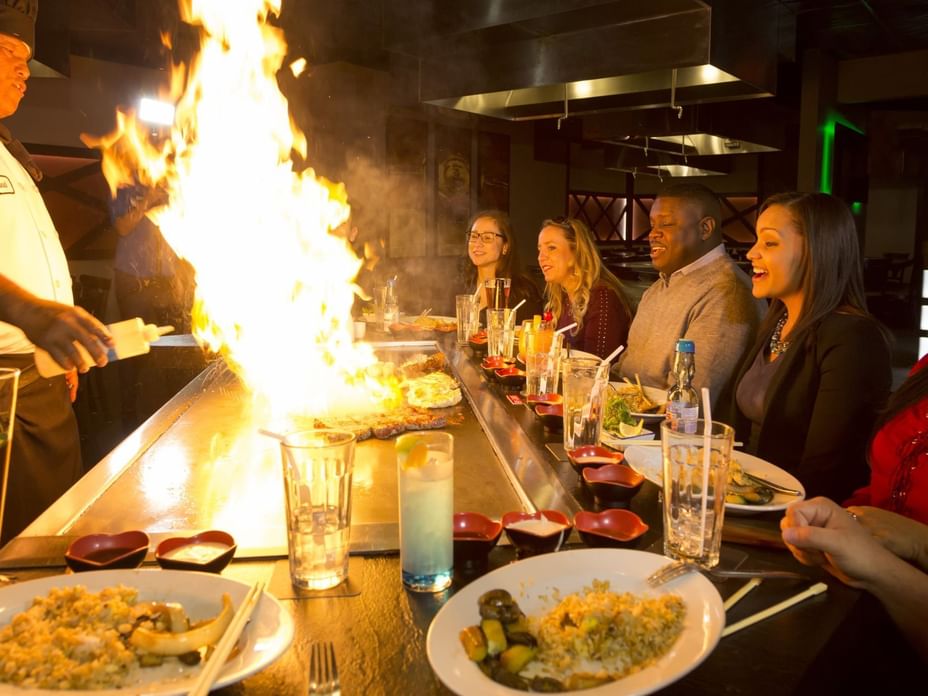 The Shogun Japanese Steakhouse dining experience combines true skill, taste, and entertainment unlike any other on International Drive. Our steakhouse highlights the culinary skills of our teppanyaki chefs as true shoguns of the grill. Watch as they manipulate heat and fire right in front of you to create a satisfying meal. Feast on freshly prepared dinners of beef, shrimp, chicken, and lobster. Vegetarian meals are also available. Group seating is available at Shogun Japanese Steakhouse around the grill with front-row seating to the action or at table settings. It's the perfect choice for family gatherings and small parties.
Shogun Sakura Sushi is the newest dining outlet in Rosen Inn. The new sushi bar features freshly-prepared sushi rolls, authentic nigiri, and sashimi served in an intimate setting. Awaken your senses with crab, salmon, and tuna, carefully wrapped in our Sunrise Roll. Sweet overtones of seafood and eel sauce stack the palate with an array of delicate flavors in the Yagura Roll. Celebrate a fiesta of flavors from crunchy shrimp tempura, cool cucumber, and avocado paired with the famous sweet and spicy Sriracha sauce in the Mexican Shrimp Roll. Just as the cherry blossom reveals beauty that touches many senses, Sakura's menu will delight you with creative, tasty, and visually appealing cuisine.
Book your Magical Dining reservations below.