Bad Bunny Brings the Heat to Camping World Stadium in August 2022
The "Bad Bunny: World's Hottest Tour" will kick off in Orlando on Friday, August 5, 2022, at Camping World Stadium.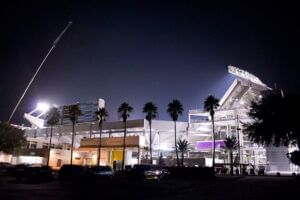 If it feels like the reggaeton superstar was just in the City Beautiful, you're right. He played at the Amway Center for two sold-out nights in March. The performances broke records, becoming the venue's highest-grossing and best-attended pair of shows.
That's to say, if you want to see the "Dakiti" and "Un Día" performer this summer, visit Ticketmaster soon. Tickets start at $140.
Bad Bunny: From DIY Artist…
Benito Antonio Martínez Ocasio grew up in Vega Baja, Puerto Rico, on the outskirts of San Juan. He wanted to be a musician from an early age. He grew up singing in his church choir and listening to salsa and merengue music with his parents. As a teen, he discovered reggaeton.
The artist cites both salsa singers like Héctor Lavoe and reggaeton pioneers like Daddy Yankee as influences. Soul, punk, and bachata music have also inspired him.
Bad Bunny began to make music at the age of 14. His stage name comes from a picture from his childhood. It depicts him sulking after a teacher made him wear an Easter Bunny costume.
In his early 20s, Bad Bunny balanced promoting his music with studies at the University of Puerto Rico at Arecibo and a supermarket job. Around this time, he began recording his songs and uploading them to SoundCloud.
One track, "Diles," caught the attention of DJ Luian, who signed the aspiring musician to his label.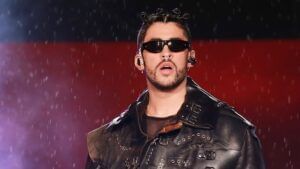 Kevin9625Ja, CC BY-SA 4.0, via Wikimedia Commons
…To Record-Breaking Icon
"Diles" became a modest hit, and Bad Bunny's follow-up single, 2016's "Soy Peor," launched him into fame. The song hit No. 22 on the Latin Songs chart. In 2018, he had his first No. 1 hit with "I Like It," a collaboration with Cardi B and J Balvin. It became the first Latin trap song to top the Hot 100 chart.
Bad Bunny's first album, X 100pre, debuted in late 2018 and was certified diamond by the RIAA's Latin music division.
Since the release of "Diles" and "Soy Peor," Bad Bunny's star has continued to rise. He's recorded hit songs with artists like Drake, Becky G, Dua Lipa, Marc Anthony, and Nicki Minaj. In 2020, he performed in the Super Bowl with Shakira and Jennifer Lopez. The artist has won one Grammy and four Latin Grammy Awards. His songs have together amassed over 7 billion views on YouTube.
According to Spotify, Bad Bunny was also the platform's most-streamed artist in 2020 and 2021.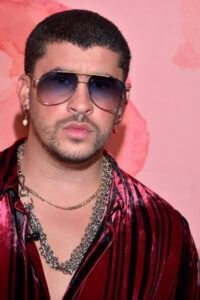 Toglenn, CC BY-SA 4.0, via Wikimedia Commons
Rosen Inn: Your Orlando Concert Hotel
After the "World's Hottest Tour" cools down, head back to your cozy guestroom at Rosen Inn. Our Orlando hotel is close to major highways, making it easy to get to Camping World Stadium and other top attractions.