Harry P. Leu Gardens Joins in Orlando's Love for Halloween
Orlando knows how to celebrate Halloween in many freakishly different ways ranging from horrifying haunts to family-friendly festivals.
But what about an event that is both frightening and family-friendly? Harry P. Leu Gardens responded with an inventive experience appropriate for both children and adults.
Creative City Project is collaborating with Harry P. Leu Gardens to host a Halloween event on select nights through October. "Happy Frights," the first part of the event, is a Halloween adventure with immersive worlds, tasty food, and traditional Halloween characters.
This experience runs between 5:00 p.m. and 7:30 p.m. when the gardens transform into the spooktacular "Haunting Nights".
The second half of the evening turns up the terror with a 10-foot-tall jack-o-lantern and terrifying jump scares – if you dare! This part of the event is suitable for guests ages 13 and above.
Fear not, though, Happy Frights and Haunting Nights share a happy, all-access area safe for everyone to enjoy: a light-up neon maze, a giant hay pyramid, and a garden of sunflowers. That way, guests won't miss out on any exciting encounters because they chose one event over the other.
Here are the times and dates for the select nights of the event:
Happy Frights –
Sep 29, Sep 30, Oct 1, Oct 6, Oct 7, Oct 8, Oct 13, Oct 14, Oct 15, Oct 20, Oct 21, Oct 22, Oct 27, Oct 28, Oct 29, Oct 30 and Oct 31 from 5:00PM to 7:30PM.
Haunting Nights –
Sep 29, Sep 30, Oct 1, Oct 6, Oct 7, Oct 8, Oct 13, Oct 14, Oct 15, Oct 20, Oct 21, Oct 22, Oct 27, Oct 28, Oct 29, Oct 30, and Oct 31 from 7:30PM to 10:00PM.
Harry P. Leu Gardens History – Know Before You Go
Harry P. Leu Gardens is a 50-acre botanical paradise in the heart of Orlando, Florida. The land of the gardens was first bought by David William Mizell in 1858. The land was then passed around by a few other buyers, until it was eventually purchased by Harry P. Leu in 1936.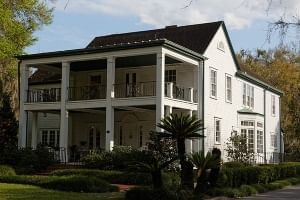 Mr. Leu and his wife built a gorgeous house on this property and cultivated a passion for importing exotic plants to grow in their backyard. The collection became so vast and successful, they started allowing the public to come and view all its beauty. 
On December 22, 1961, Mr. Leu graciously donated his wonderful estate to the City of Orlando. In the years that followed, locals and tourists alike have since enjoyed the gardens and museum, taking in the sights and appreciating the rich history behind it.
Closest Rosen Inn to Harry P. Leu Gardens
Whether you're visiting Harry P. Leu Gardens during spooky season or passing through Orlando any other time of the year, Rosen Inn is your go-to hotel destination. Our convenient location and easy access to Interstate 4 makes it easy to get to the gardens. With comfortable rooms and amenities like an outdoor pool, our on-site buffet, and even a video arcade room for the kids, you are sure to have a great stay.