Ranking 6 Orlando Water Rides: How Wet Do You Get?
Summer is here, the season of longer days, cookouts, and blockbuster movies. But it's also the season of sweltering heat, especially in Orlando.
Luckily, the city's world-famous theme parks are home to many refreshing and reinvigorating water rides. Some provide a cool misting, while others were designed to drench. All provide relief from the scorching summer sun.
To help you find your new favorite water ride in Orlando, we've ranked them by how wet you'll get, from a small splash to a super soaking.
6. Infinity Falls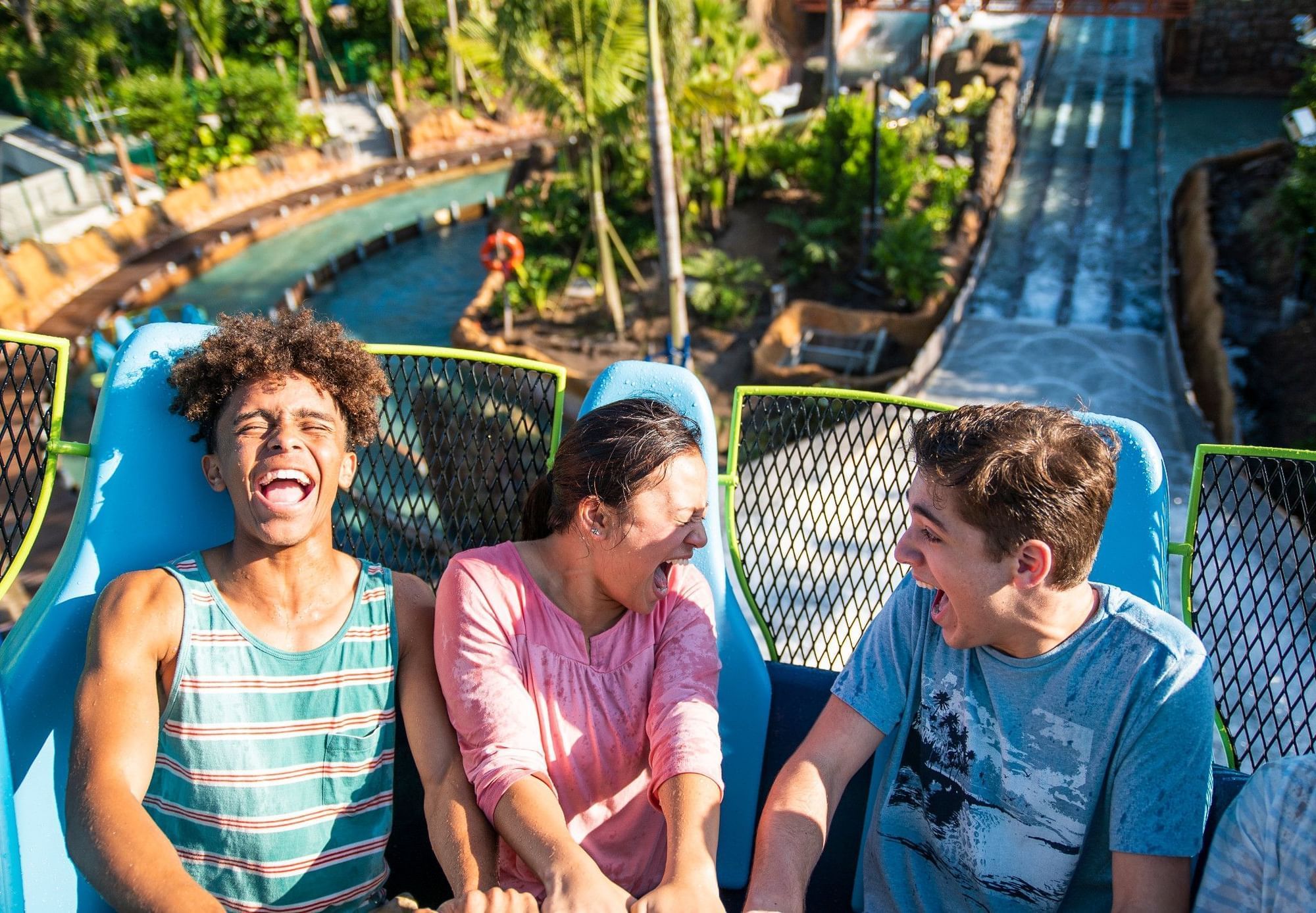 About the Ride
Did you know that SeaWorld Orlando is home to the tallest river rapid ride in the world?
Infinity Falls' 40-foot drop has sent riders slipping and sliding since 2018. This water ride brings a taste of the Amazon Rainforest to Orlando. As you admire the tropical landscaping from your raft, you'll learn why water conservation is so important to the Amazon.
How Wet Do You Get? A little.
Infinity Falls may look intimidating. And, yes, you're likely to get a little wet from the splashing river rapids. But unlike other water rides on this list, Infinity Falls wasn't designed to soak unassuming park guests. For instance, the waterfall elements on this ride automatically shut off when a raft passes through them.
That said, there's one watery hazard that riders should be aware of.
A couple of water cannons are positioned around Infinity Falls. Spectators can pay to give riders a good spritzing. If this happens, don't worry — for a small fee, you can step into one of the drying machines at the ride's exit.
5. Jurassic Park River Adventure
About the Ride
When books get adapted to the screen, scenes often get cut. It can even happen to the most thrilling of sequences. Like one in Michael Christon's Jurassic Park novel, where the characters try to evade a T. rex on a dinky dinghy.
Luckily, Universal Orlando Resort brought the thrilling scene to life in 1999.
That's when Jurassic Park River Adventure opened at Islands of Adventure. The classic water ride features stunning scenery, dastardly dinos, and an 85-foot drop.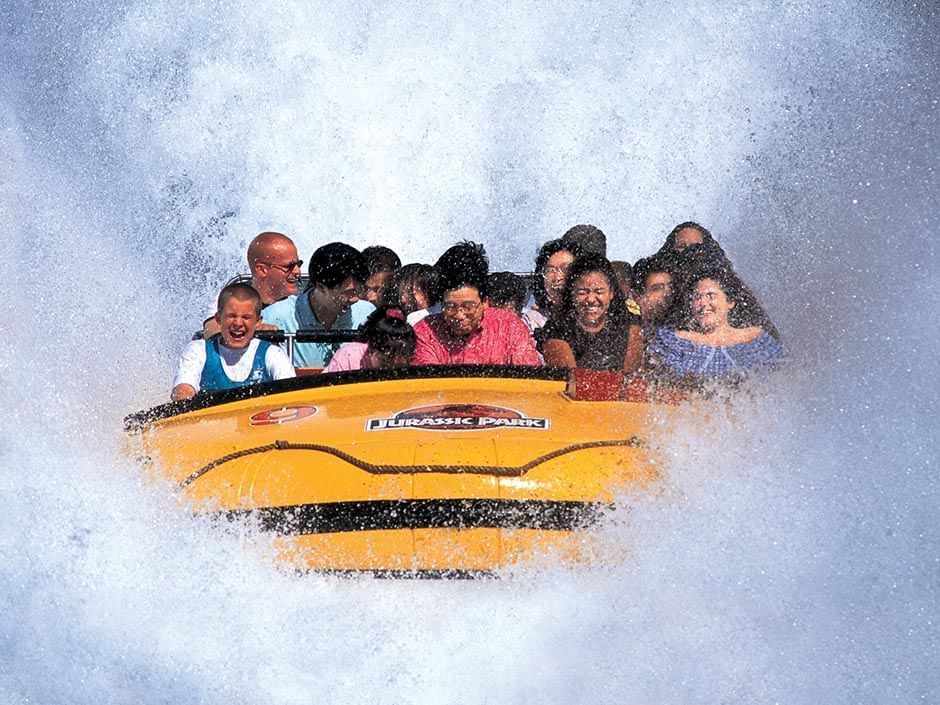 How Wet Do You Get? You Choose.
At any given time, 15 million gallons of water flow through this water ride. So, naturally, everyone on board is likely to get a little wet. But the good news about Jurassic Park River Adventure is that you can choose just how wet you get.
Passengers in the front of their boat are in for a major soaking. But the further back you sit, the less likely you are to get drenched. In fact, riders in the back row may just get a small splash. Still, if you're worried about your belongings, Universal Orlando rents lockers close to the ride.
4. Kali River Rapids
About the Ride
Like Infinity Falls, Walt Disney World's Kali River Rapids pairs its whitewater adventure with an environmental message.
In the case of this Animal Kingdom water ride, you'll learn about illegal logging's impact on wildlife, and what you can do to help. Along the way, riders are treated to glimpses of gorgeous jungle plants, thrilling twists and turns, and the soothing smell of jasmine.
How Wet Do You Get? Wildcard.
It depends. Chances are, someone will exit your boat absolutely drenched, while someone else will have gotten just a sprinkling of water.
With flume rides like the Jurassic Park River Adventure, guests can control how wet they get with strategic seating. But Kali River Rapids is less poker and more roulette. As your raft spins round and round, you'll have no idea who will end up in the direct line of a waterfall. And unlike Infinity Falls, these waterfalls stop for no one.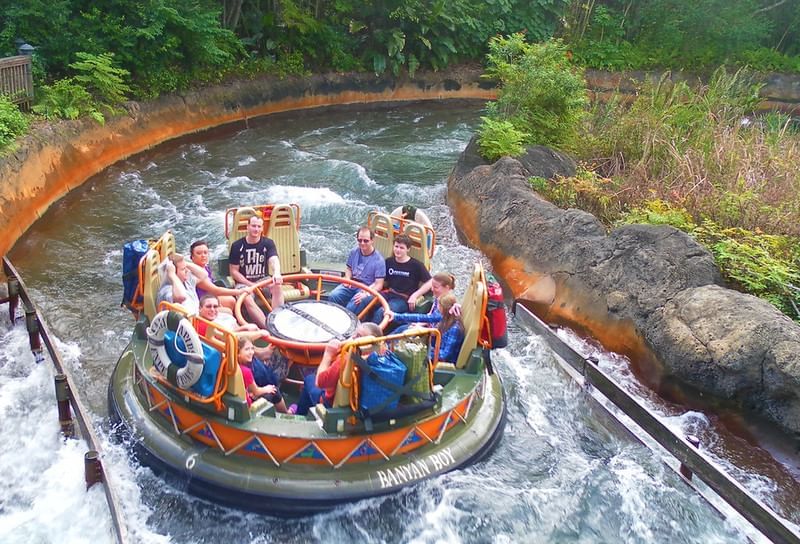 3. Dudley Do-Right's Ripsaw Falls
About the Ride
Hot Orlando summers can leave you dreaming of cooler climates. Luckily, Dudley Do-Right's Ripsaw Falls in Islands of Adventure transports you to the Great White North in mere minutes.
This Universal Orlando log flume follows the famous Mountie as he travels through a Canadian mining town. His mission? To rescue his crush, Nell Fenwick, from the sinister Snidely Whiplash.
From the ride queue to the exit, guests will enjoy good-natured parodies of Orlando theme park rides past and present. See if you can spot the spoofs of Mr. Toad's Wild Ride and Pirates of the Caribbean.
How Wet Do You Get? Very wet.
Very. The ride features multiple drops, including a 75-foot one that plunges your boat into the deep blue with a big splash. On top of that, the water cannons surrounding the water ride cost just a quarter, making it easy for spectators to surprise you with a spritz.
Luckily, there are drying machines right by the Ripsaw Falls exit.
2. Journey to Atlantis
About the Ride
SeaWorld's journey to becoming the Coaster Capital of Orlando started in 1998 with a single ride. Journey to Atlantis takes theme park guests on a voyage to the fabled island. As you float on, you'll meet Greek gods, mermaids, and other mythical creatures.
But don't let the peaceful city streets and colorful reefs lull you too much — nothing is as it seems.
How Wet Do You Get? Drenched.
Journey to Atlantis is 50% roller coaster, 50% log flume, and 100% likely to get you wet.
And there's a good chance you'll get totally soaked. Even if you make it down the main 60-foot drop relatively dry, keep your poncho on. Many riders say it's the second, smaller drop that truly gets you.
1. Popeye & Bluto's Bilge-Rat Barges
About the Ride
This Islands of Adventure water ride takes you on a supposedly peaceful river tour led by famed sailor Popeye. Your captain has nearly 100 years of experience sailing the ocean blue. But he's still no match for the evil Bluto, who sends your barge off course in an attempt to kidnap Olive Oyl.
How Wet Do You Get? Drenched.
Grab your poncho and pack a towel. Popeye & Bluto's Bilge-Rat Barges will likely leave you soaked to the bone.
In addition to rough river rapids, this Universal Orlando Resort attraction has huge waterfalls, leaking pipes, and other water features whose sole purpose is to completely douse riders. Even if you somehow to evade the buckets of water raining down on your raft, chances are your vessel will be full of water, leaving you with soggy shoes.
Oh, and this ride has water cannons all around it, too. While some cost 25 cents, the ones in the Me Ship, the Olive playground are free. So, there's no reason for spectators not to spray you.
Bonus: Our Predictions for Tiana's Bayou Adventure
About the Ride
In 2020, Walt Disney World announced plans to convert Splash Mountain into a Princess and the Frog-themed log flume called Tiana's Bayou Adventure. And now, the Imagineers are almost there with their overhaul. The new water ride is expected to open in 2024.
The Magic Kingdom attraction will follow Princess Tiana as she goes down the bayou, foraging for ingredients for a special Mardi Gras dinner. But when the journey takes a turn for the worst, riders will find themselves plunging down a salt dome into the water below.
How Wet Do You Get? Wildcard.
While the story and animatronics will be new, Tiana's Bayou Adventure will use the same ride mechanics as Splash Mountain. Right down to the 49-foot drop.
This means that you're likely to get as wet on the new ride as the old one. Exactly how wet that is varies.
For one, Disney has historically changed the water levels in Splash Mountain to make it a little less splashy on cooler days. Where you sit can also make a big difference. Research done by a few superfans suggests that riders in the front row are most likely to get drenched. Meanwhile, the back-left seat is usually the driest.
This water ride also features water cannons. So even if the bayou spares you, your friends on the other side may not.
End Your Water Ride Adventure at Rosen Inn
As your wet and wild day at the parks draws to a close, dry off in your cozy guestroom at Rosen Inn. Or keep the splish-splashing fun going at our seasonally heated swimming pool.
Our Orlando hotel is on International Drive, a short drive or shuttle ride away from the city's best theme parks — and best water rides.