Rejoice at Universal Studios' Rock the Universe 2024  
Get ready to rejoice once more at Rock the Universe, an annual Christian-rock concert held at Universal Studios Florida.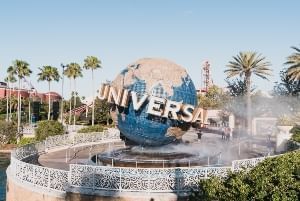 Fans of this event are gearing up for an unforgettable weekend of worship at Florida's largest Christian music festival taking place January 26 and 27, 2024. 
Uplifting Entertainment
The main attraction of this event is the uplifting entertainment from various worship-centric music groups and artists.
On Friday, six well-known Christian acts will be taking both the Music Plaza and Hollywood stages in Production Central.
The headliner act is We the Kingdom, a contemporary Christian music group based out of Nashville, Tennessee. Their hit single "Holy Water" carried them to the top of the music charts, peaking at No. 2 in the Hot Christian Songs category.
Following them are other renowned acts like LECRAE, Blessing Offor, Cody Carnes, Elevation Rhythm, and Riley Clemmons.
The excitement rolls over into Saturday as well where fans will get to enjoy live performances from headliner Casting Crows, with supporting acts such as Phil Wickham, Brandon Lake, CAIN, Andrew Ripp, and Hulvey.
Celebratory Ceremonies
In past years, a candlelight processional has been held on Saturday nights at the Music Plaza Stage.
This ceremony features a short service and, historically, a guest appearance by one of the artists in the concert line-up.
The processional stands as a magnificent opportunity for festival attendees to converge from all corners of the nation, serving as a testament to the power of their faith and the bond it forges.
The worship continues with a full denominational service on the following Sunday morning that guests can attend as well.
Access to the Park
One of the most unique aspects of this festival is its location. Hosted at Universal Studios Florida, attendees can also experience some of the park's famous attractions while at the event.
Rides like the brand-new Villain Con Minion Blast, the highly acclaimed Hollywood Rip Ride Rockit, and even select Harry Potter attractions are all available to experience during Rock the Universe weekend, providing guests with a packed itinerary of faith and fun!
Guests can enter the park as early as 4 p.m. on both days and can remain there until 1 a.m. when the event finishes.
Tickets are available now and range from $79.99 to $119.99, depending on whether you purchase a one or two-night ticket.
Stay With Rosen Inn Closest to Universal
Want to be close to all the action? Rosen Inn Closest to Universal is the perfect central location for your next trip to Universal Orlando Resort.
With free shuttle services to and from the parks throughout the day and plenty of convenient amenities and accommodations, you will experience what makes us a Universal Partner Hotel and Orlando's best vacation value.