Taco Bell Cantina Coming to Orlando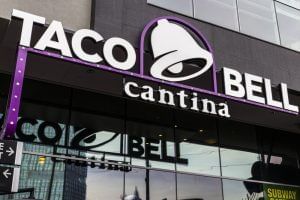 The fast food innovators at Taco Bell have come up with another exciting creation, and it's come to Orlando as of late September. This time, it's not a unique menu item like the Crunchwrap or Doritos® Locos Tacos, but a new restaurant concept: Taco Bell Cantina. Only a handful have opened around the country, most notably the giant one in Las Vegas featuring a wedding chapel, so it's exciting that the Orlando is home to one. This new restaurant can be found at Plaza on University, right next to Bar Louie and across from the UCF main entrance.
How Is It Different?
A Taco Bell Cantina has everything a normal Taco Bell has and much more. The first thing that sticks out is their upgraded sleek, modern style. You might also notice the absence of a drive-thru and become skeptical, since that's such an important part of any Taco Bell. However, the biggest differences are inside.
On the menu are normal Taco Bell favorites but with some notable additions. Most significantly, Cantinas serve alcohol including beer, wine, sangria, and liquor. One of the most popular drinks they serve are called Twisted Freezes, which are slushies of various flavors mixed with tequila, rum, or vodka. As of opening, the UCF Taco Bell Cantina does not have a liquor license, but they have six different draught beer taps with two devoted to local craft beers. There are also shareable items exclusive to Cantinas like chicken fingers and mini quesadilla nachos.
Orlando Hotel
Next time you are in the Orlando area, be sure to stop by the Taco Bell Cantina for an all-new fast food experience. Whether you are in town for Parents' Weekend at UCF, to watch the 13th ranked football team in the country, or for the theme parks, don't forget to check out the Cantina.
Need a place to stay during your visit? The Rosen Inn offers an exceptional combination of clean rooms and peerless customer service at a reasonable price. Our staff is dedicated to making your stay as enjoyable as possible, and our rooms have been renovated to be as comfortable as possible. For reservations, give us a call at 407-996-4444.