Shogun Japanese Steakhouse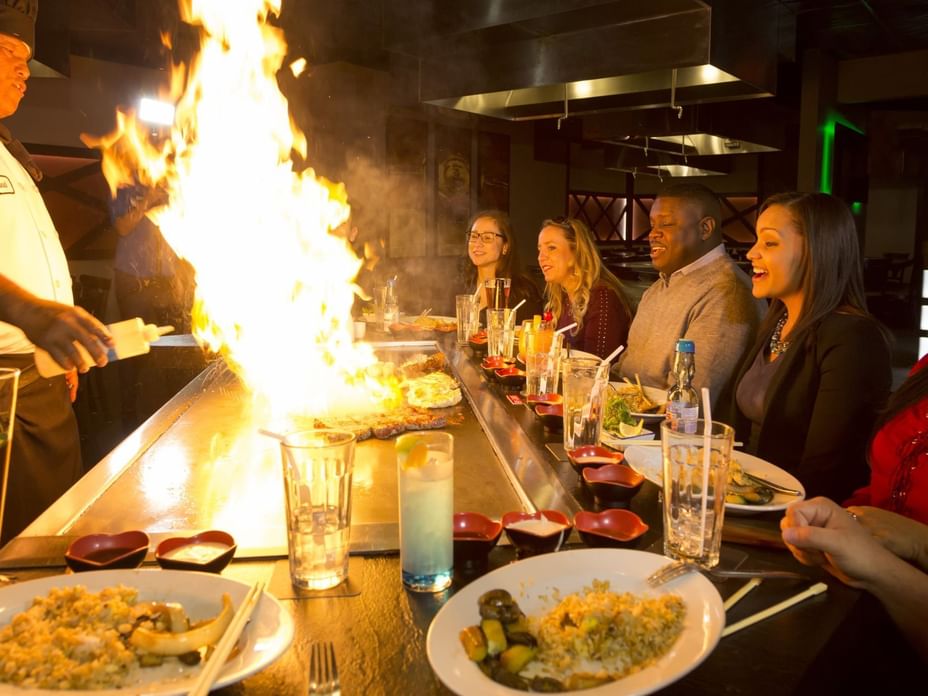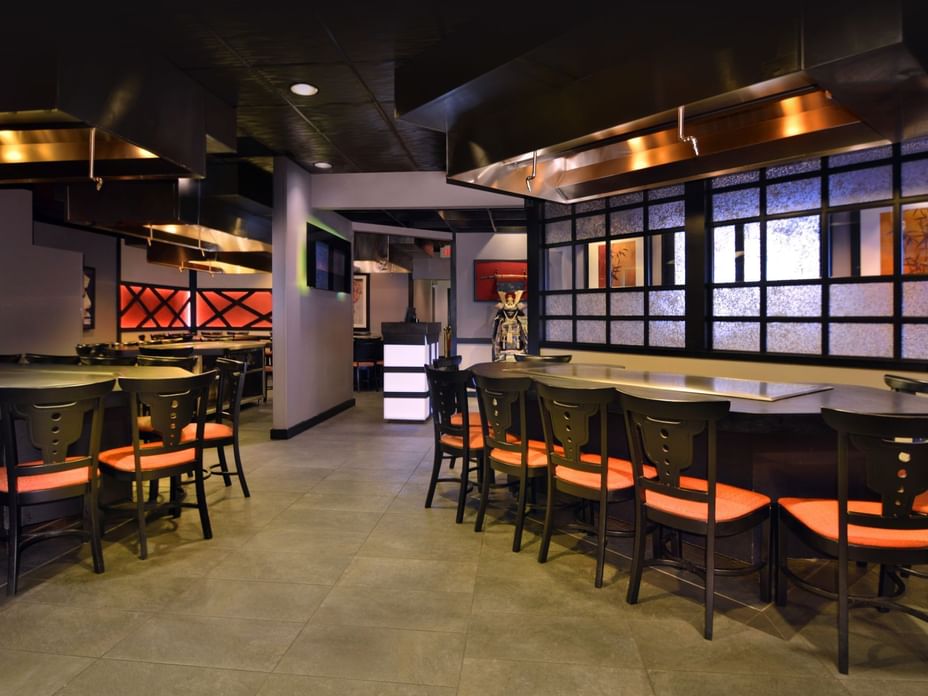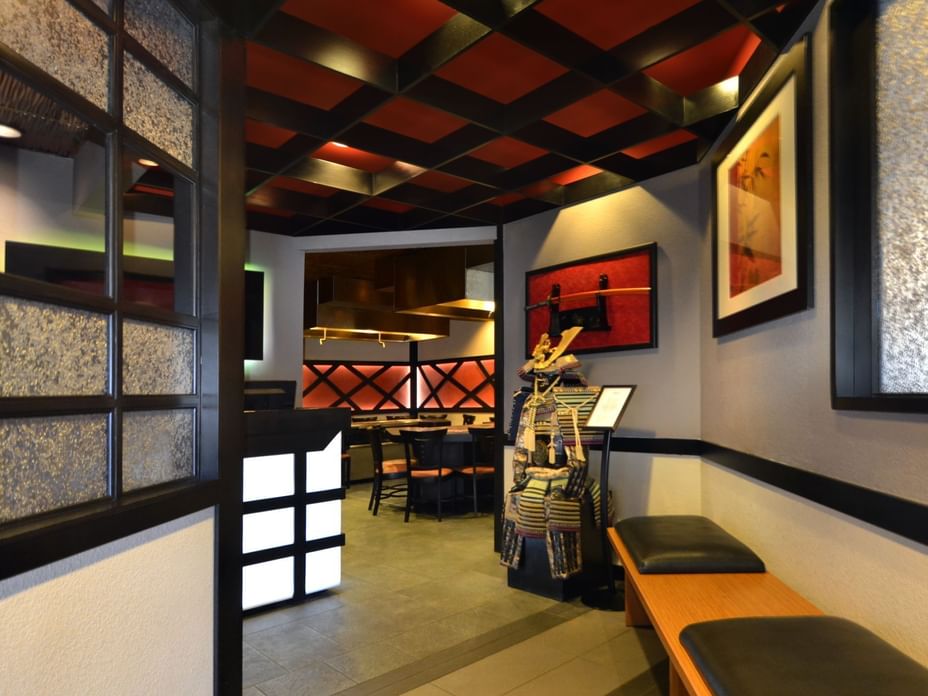 The Shogun Japanese Steakhouse dining experience combines true skill, taste, and entertainment unlike any other on International Drive. Our steakhouse highlights the culinary skills of our teppanyaki chefs as true shoguns of the grill. Watch as they manipulate heat and fire right in front of you to create a satisfying meal. Feast on freshly prepared dinners of beef, shrimp, chicken, and lobster. Vegetarian meals are also available. Group seating is available at Shogun Japanese Steakhouse around the grill with front-row seating to the action or at table settings. It's the perfect choice for family gatherings and small parties.
6327 International Drive 32819 Orlando United States
Appetizers
Shrimp Tempura (5 pieces)
12
Entrees
Served with Teppanyaki vegetables, fried rice, soup, and house salad with ginger dressing.
Chef's Specialties
Served with teppanyaki vegetables, fried rice, soup, and house salad with ginger dressing.
Filet mignon and lobster tail
Chicken, shrimp, scallops
New York strip, chicken, shrimp
Additions
Select additional proteins to be added to any of our Chef's Specialties or Entrees.
Desserts
Chocolate Decadence Cake
5.5
Children's Entrees
For children younger than 12 years old
Kid's Teriyaki Chicken
9.5
Non-Alcoholic Beverages
Ramune Japanese Marble Soda
Lemon Lime
Melon
Strawberry*
*Ask for Availability
Orange
Pineapple
Cranberry
Apple
Beer
Kirin (Japan)
Sapporo (Japan)
Heineken (Holland)
Modelo (Mexico)
Corona (Mexico)
Magners Cider (Ireland)
Bud Light
Michelob Ultra
Coors Light
Miller Lite
Smirnoff Ice Cooler
Rosen Specialty Beer
Alligator Drool IPA, created and prepared by Brew Hub in Lakeland, Florida, is the hallmark beer of Rosen Hotels & Resorts. This 6.0% ABV American India Pale Ale has a balanced mouthfeel thanks to its thick head and excellent ratio of mellow malty flavor with citrus, fruity, and floral rising from its hop profile.
Sake/japanese Wine
Hakkaisan Tokubetsu Junami "Eight Peaks"
Clean, well balanced with mellow and elegant flavors.
Tozai Nigori "Snow Maiden"
Creamy and dry with bright and fresh aromas with a lovely rice and fruity combination.
Tozai Plum Sake "Blossom of Peace"
Aromas of almond and marzipan followed by plum, apricot, and cherry on the palate.
Kikusui Funaguchi Namagenshu "Gold Can" (180 ml.)
Full body with bold flavors and aromas of ripe melons and green apples with a long finish.
"Night Swim" by Tozai (180 ml.)
Tozai celebrates the balance between Japan's east & west and honors the Japanese koi fish (emblazoned on the can), known for its longevity and healthy life. Medium body with a clean finish.
"Non no ko" means "adorable" in Saga dialect. Genuine Shōchū distilled from barley, rice, and black malt. Non-no-ko has a full-bodied flavor with a moderately sweet and pleasant finish.
"Peak" by Gyokusendo Shuzo
A handcrafted blend born from pure Japanese spring water, grain and imported malt in the Yoro area of Gifu Prefecture, Japan. There is a legend where in a flowing waterfall transformed into rich, flavorful sake. Silky smooth and filled with flavors, the finish is long and warming.
Signature Cocktails
Jack Daniels Tennessee Apple, apple puree, lime juice, soda
Gekkeikan sake, peach schnapps, Maraschino cherry
Stoli Vodka, melon liqueur, pineapple juice, Maraschino cherry
Bombay Sapphire Gin, Malibu Rum, Blue Curacao, pineapple juice
House-made sangria infused with slices of fresh fruits
Stoli Ohranj Vodka, raspberry liqueur, cranberry juice
Bacardi Dragon Berry Rum, lime wedges, club soda, simple syrup, mint leaves
Flor de Cana Rum, Gekkeikan sake, orange juice, pineapple juice, mango mix, orange slice, Maraschino cherry
Sailor Jerry Spiced Rum, apricot brandy, peach schnapps, banana brandy, mango mix, Sprite, lemonade, pineapple slice, Maraschino cherry
Upsize your drink of choice, presented in a fishbowl glass, serves two
Wine – Whites
William Hill Chardonnay
7/25
Penfolds Max's Chardonnay
8.5/33
Ecco Domani Pinot Grigio
7/25
Bulletin Place Moscato
8.5/33
Ecco Domani Pinot Grigio
7.5/28
Wine – Reds
William Hill Cabernet Sauvignon
8.5/33
Mark West Pinot Noir
8/28
Wine – Sparkling
La Marca (187ml) Prosecco
–/10