Cash Cab's Ben Bailey at Hard Rock Live Orlando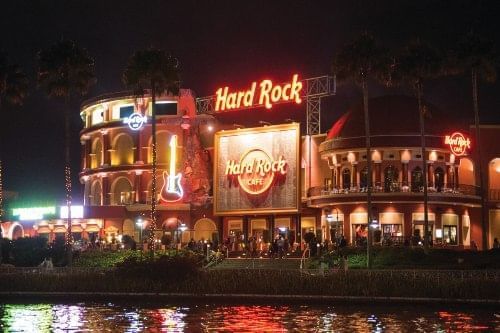 Household name and "C­­ash Cab" star Ben Bailey is coming to the Hard Rock Live Orlando on Saturday, March 27, 2021, at 7:30 p.m. Buckle up for an evening that will have you laughing so hard that you'll want to pump the brakes just to catch your breath.
A Standout in Stand-Up
Like many others dreaming of a career in show business, Ben Bailey left his small-town home for the West Coast with hopes of being discovered. It wasn't long before he began to separate from the pack. Early success as a stand-up comedian on the Sunset Strip prepared him for a return to the East Coast, where he began making his rounds through comedy clubs in New York City. The crowds there loved him, just as they did in Montreal, Chicago, The Edinburgh Fringe Festival, and his other stops around the world.
Bailey's knack for charming audiences while on tour made him a natural fit for the hit TV game show, "Cash Cab." Traveling the streets of New York City, he turned the ordinary act of hailing a taxi into the opportunity of a lifetime for unsuspecting passengers. With Bailey in the driver's seat, the series saw great success on The Discovery Channel, BRAVO, and even The Game Show Network, winning six Daytime Emmy Awards.
A Legend in the Limelight
Throughout his career, Ben Bailey has proved he's as versatile as he is funny. His two specials on Comedy Central and his Netflix special, "Road Rage and Accidental Ornithology" are the beginning of a long list of high-profile gigs. You may have spotted him in a handful of commercials or alongside other big names in TV and radio. Bailey's popularity earned him airtime on many shows such as "Last Call with Carson Daly," "The Late Show," "The Tonight Show," "Today," "The Oprah Winfrey Show," and "Rachel Ray."
His hosting career includes "Who's Still Standing," "Best in the Business," and "After the Catch," in addition to his popular podcast, "Tall But True." But that's not all. Bailey added acting to his repertoire with appearances in the well-known comedies and dramas below.
"30 Rock"
"Parenthood"
"Law and Order"
"One Life to Live"
"Bad Parents"
"Don't Shoot the Pharmacist"
"Bad Meat"
On the Road Again
Bailey will always have a connection to comedy. He continues to spread laughter with live stand-up tours, including his recent special "Ben Bailey Live & Uncensored." He's an act as well-rounded as they come, and you never know what he'll do next. Don't miss your chance to see him on tour when his rescheduled show, "Cash Cab's Ben Bailey: Live In Concert" pulls up to the Hard Rock Live Orlando in March.
It's Your Turn to Tour Orlando
While in Orlando to see Ben Bailey live in concert, take a tour of your own with a getaway at Rosen Inn on International Drive. With affordable comfort, luxurious amenities, and convenient access to all the famous dining, shopping, and entertainment Orlando is known for, the Rosen Inn is the perfect place to stay.
Our hotel has also implemented recent upgrades to ensure a safe and healthy visit for you and your party. New enhancements include plexiglass borders at our front desk, additional hand sanitizer dispensers throughout the hotel, socially distant floor markers within the common areas, more frequently sanitized touchpoints, and the use of EPA-approved, hospital-grade disinfectants in all guestrooms. Read all about the latest health and safety protocol on our Rosen's Total Commitment page.
To book your Orlando vacation, call Rosen Inn today at 407-996-4444 or click "Check Room Availability" at the top of this page.