Night of A Million Lights at Give Kids the World Village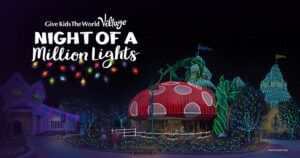 In its debut year 2020 (during the pandemic, nonetheless), the event brought in 92,000 guests and quickly captured the number one spot on USA Today's list of the "Best Things to Do in December in Orlando."
The holiday spectacular runs from Friday, November 12, through Sunday, January 2, 2021. There will be lights galore, a breath-taking holiday-themed village, intricate holiday displays, music, storytelling, and a mesmerizing tree trail. Santa will frequently visit providing great photo ops with the kids. To make sure everyone is safe, Night of a Million Lights will be from 5 p.m. to 10 p.m. with certain entry time slots at 5-7 p.m., 6-8 p.m., and 8-10 p.m., so there's room to be socially distanced.
New this year are multiple VIP packages that provide exclusive access to dessert parties, tours, balcony experiences, and much more.
Tickets
Ticket prices vary between $25 and $40 for adults, depending on which type of ticket you purchase, and $15 to $20 for children ages 3 to 17.
The three types of tickets are Standard, Peak, and Holiday. Upgrade the experience with the VIP options detailed earlier. When purchasing the tickets, be sure to read through the safety protocols and verify the date and time of your scheduled visit. Guests are encouraged to purchase tickets quickly because tickets were sold out last year shortly after being released.
Tickets are on sale now at www.gktw.org/lights.
Give a Truly Meaningful Gift this Holiday Season
One evening at a Night of a Million Lights at the Give Kids the World Village helps support this Four-Star charity as it provides families and critically ill children, who have spent countless months in the hospital—away from a life of just being a kid, the time and place in which they can create priceless memories.
The nonprofit started in 1986 and has provided week-long, cost-free wish vacations for more than 176,000 families from the United States and other countries. Witness for yourself the tremendous, positive impact this organization has on who they call "the bravest kids and their families."
Have Yourself a Merry Little Christmas at the Rosen Inn
Take your own dream trip to Orlando, the popular holiday destination during the joyous season, and book a room at Rosen Inn, a Rosen Hotel & Resort.
Located in the heart of International Drive, our hotel provides deluxe rooms at a budget-friendly price. And it's super close to Orlando's top attractions and entertainment! Close to our hearts is your safety. Our Total Commitment details that dedication to the safety of our guests and associates with features such as clear protective borders at our front desk, frequently cleaned touchpoints, hand sanitizer dispensers throughout the hotel, and the use of hospital-grade, EPA-approved disinfectants in all guestrooms. Read all the details on our Rosen's Total Commitment page.
To book a room today, visit our website or call us at 407-996-1600, or click "Check Room Availability" above.