Your Hotel for Halloween Horror Nights at Universal Orlando
Halloween Horror Nights (HHN) at Universal Orlando is one of the world's best Halloween events for those looking for thrills and frights. This year, the annual event runs on select nights from Friday, September 1, to Tuesday, October 31, 2023.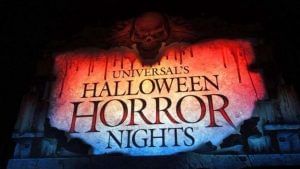 Here is what you can expect at Halloween Horror Nights 32 and where to stay after a frightful night out in Orlando.
Enjoy Horrifyingly Fun Haunted Houses

Loyal HHN fans know that the excitement starts during the summer.
That's when Universal unveils the haunted house themes for the year. Whether you're into new or classic horror, there will be a house to fright and delight you. Last year's themes included:
The Horrors of Blumhouse


This recently announced house focuses on the twisted killers from two Blumhouse Productions horror films, Freaky and The Black Phone.

Halloween


If you prefer iconic slasher films, this haunted house is themed after the 1978 classic It will feature the film's silent-but-deadly star Michael Myers.

Universal Monsters: Legends Collide


In this haunted house, you'll see what happens when Universal's classic monster movie stars, Dracula, The Wolf Man, and The Mummy, battle each other.

The Weeknd: After Hours Nightmare


Explore a house full of blinding lights and freaky fiends, based on the Weeknd's hit album After Hours.

Bugs: Eaten Alive


Take a tour of a futuristic midcentury home, but watch out for the giant creep crawlies that loom around every corner.

Fiesta de Chupacabras


A town's annual festival takes a turn for the worst when a chilling Chupacabra shows up uninvited.

Hellblock Horror


Make your way out of a prison filled with truly monstrous inmates.

Dead Man's Pier – Winter's Wake


Drop your anchor in a quaint fishing village. But watch out; beneath the water's icy surface you'll find flesh-eating fishermen.
Descendants of Destruction
When a meteor strikes Halloween Horror Nights, the only safe haven is a subway station. But don't get too comfortable, or the train's mutant passengers will make you one of their own.

Spirits of the Coven


This Halloween Horror Nights house is based upon a 1920s speakeasy. Make escape before you become part of the bewitching brew they serve by the cauldronful.
Visit Sinister Scare Zones
If you think the frights end once you exit the haunted houses, think again.
There are five scare zones scattered throughout Halloween Horror Nights. Proceed through these areas with caution. You never know when something crawling in the night will sneak up and give you the fright of your life.
Experience Exciting and Over-the-top Shows
While the haunted houses and scare zones are the biggest draws at HHN, the event will also feature two live shows for your viewing pleasure. Last year's shows were titled "Halloween Nightmare Fuel Wildfire" and "Goulish! A Halloween Tale." The shows at Halloween Horror Nights are always delightfully over the top and not to be missed.
Ride Thrilling Roller Coasters
Universal Orlando is known for having some of the best roller coasters around. HHN allows you to ride your favorites in the thrilling dark of night.
Exclusive Food and Drinks
There's even something at Halloween Horror Nights for the foodies.
Every year, Universal introduces new, event-exclusive food and drink items along with souvenir cups and containers. If you miss this year's spooky treats, you may never get a chance to try them.
Book an Affordable Hotel for Halloween Horror Nights
After a long night of frights, rest where the fears won't follow.
Rosen Inn on International Drive provides peaceful nights in clean and comfortable hotel rooms. Our Universal Partner Hotel is the perfect place to stay this Halloween season.